My apologies, if you only want WMMA content, please skip the next 3 paragraphs and the last section
I'm doing a little travelling and just stopped by in Dong Guan, China (just found out this is where my granddad and his brothers etc grew up). Guess I can call myself a 'Donger'. Dongian? I don't know the specifics since everything that I'm being told is in another language that I'm not necessarily fluent in, but Dong Guan is a few hours north of Hong Kong.

So, yeah Youtube's blocked. Twitter's blocked. Facebook is blocked among a few others like Wordpress blogs. Tumblr is working, though. Music is hard to come by with soundcloud blocked as well. I'm only here for a few more days and I'm to lazy to figure this VPN, bypassing the restrictions stuff (Oh, a bunch of the video streaming sites are blocked too). Also, I had/have to pay to watch Big Nog/Roy Nelson in addition to paying the monthly fee already!!! Why you doing this to me China!? You used to be cool (people who got that reference, thank you). Soooo…
After about 8 months of WMMA previews (monthly, biweekly, weekly etc) and recaps of them, I will miss my own deadline of 'WMMA Preview April Week 1-2'. And this was on a very active week of fights too! Holly Holm, Ronda's BFF of sorts, Seo Hee Ham and a 10-0 19 year old Brazilian prospect. Hopefully, this will be a first and only that!
I think something is better than nothing, so here's what I have… (it's been a while MMAFighting/BloodyElbow fanpost section)
135lbs: Holly Holm def. Juliana Werner via 5th round TKO
Gif by Zombie Prophet for more go here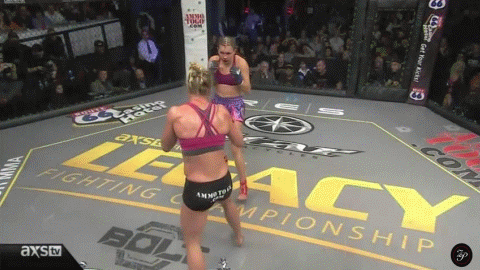 Just another highlight, another passenger on the Holly Holm hype train

Holm did this with a

fractured left arm.
The brief moments of any sort of grappling, Holm looked uncomfortable to me. She's must-watch, but I'm confident she would get wrecked by Ronda and Cyborg. I'd even pick Zingano to beat Holm, if it's the Zingano that goes for takedowns.
Her technique is absolutely superb, but does she really have to grunt after every strike? I even heard her grunt after moving away from a strike.
105lbs: Seo Hee Ham def. Shino VanHoose via unanimous decision
Van Hoose (van Hoose? VanHoose?) last fought in November of 2012 and was, I think, 17. She is now 18 (born in 1995!!) and has made a substantial improvement, especially with her striking.
I doubt she was training much takedown defence as Ham surprised by going after the clinch on many occasions, then taking van Hoose down, getting a few dominant positions. It's definitely great to see Ham incorporate the takedown to compliment her excellent stand up. It's rare to see a fighter that's winning change up their style even if it means become a more well-rounded fighter. Impressed with Ham/her team.
I never noticed how lanky van Hoose was in her previous fights. At 5 ft 4 and the big improvement from a year and a half ago, she is certainly someone to keep an eye on.
I was pretty choked up at the end of this fight. So, I'll keep this as short as possible. Why in the FUCK is this fight a two rounder WITHOUT a 10 minute marathon round? You have one of the best atomweights in the game (#3 on many rankings), and a girl that has fought two veterans… and you only give them 10 minutes to fight? Can you imagine two top boxers fighting 3 three-minute rounds? I certainly cannot. And to make things worse Road FC, the promotion that put this fight together (OK, at least they put this fight together), has most of the male fights as 3 rounders.
135lbs: Larissa Pacheco def. Lizianne Silveira Da Conceicao via 3rd round submission to defend her Jungle Fight title
Pacheco first won the belt with a 3rd round stoppage (TKO) on new Invicta signee, Irene Aldana. And now improves her record to 10-0 (all finishes) with her first title defence.
The term prospect is hard to define in MMA, but with only regional experience and 19 years of life, I'd say it is safe to call Pacheco the #1 bantamweight prospect (with a cut off of age 26, I'm using the National Hockey League's cut off rule for rookies)
She can strike, she takes people down and can submit. A triple threat, that would be an excellent addition to the UFC's bantamweight division. Alexis Dufresne just lost Amanda Nunes and needs an opponent, and with the amount of Brazil cards, I'm expecting her to get signed pretty soon.
In sports the #1 overall draft pick, doesn't always have great success right off the bat, or live up to expectations at all, while some random kid from Russia drafted with the 189th pick becomes a superstar… this should be the expectation with MMA 'prospects' as well.
Link Dump
Marina Shafir wins pro debut via armbar 1:57 into the first round. A bunch of photos from the fight. From one of the photos it looks like she hits one of the "big outer" throws or "Osoto"… and of course you can see Ronda in a photo or two. Jessamyn Duke has some footage of Shafir getting her hand raised (Oh, hell yeah. Just realized Instagram is unblocked.)
19 year-old (also born in 1995), Agnieszka Niedzwiedz, moves to 6-0 with a triangle choke 3:59 into the first round. "TheAntiCool" describes it as "vicious GnP while in the topside triangle to put Hewitt away." And this is what MMAJunkie had to say, "

Agnieszka Niedzwiedz (6-0) wanted to show off some of her ground skills in her sixth professional fight, which she did styling on bantamweight Gemma Hewitt (1-1) from the top before locking in a fight-ending triangle choke.

The fight was all Niedzwiedz as all four minutes of action featured her attempts to finish the fight."
I can't find a single result of Brianna van Buren's fight this weekend at Rogue Fights 27
Please accept these videos of me as an apology (or a slap in the face depending how you view me, just based on words) for missing my own deadline
I'll never be able to chart my training like some people can, but here's a video of me kickboxing "fighting"/hard-spar (this site bypassed my adblock) with a friend of mine. This was when I was either 16 or 17 with about 50 hours of Muay Thai if I'm being generous. At the time of this contest, I took about 2 months off of training.
No headkicks, knees or elbows allowed. Sparring with him is probably the closest thing to Lyoto Machida I'll ever get and I apologize for my horrendous Mayweather impression (I'm apologizing a lot).
I'm the taller one (white shirt). He's the stockier one (black shirt). We agreed to go 100%, even if it doesn't look like it at times. And yeah. There's a bunch more things that needs to be said, but whatever! There you go. Somewhat of a face to go with the words is good right? Unless, I unknowingly have a face of CB Dollaway-esque, Joe… which would suck, but I'm ready to carry that weight.
I found another one on my laptop. Here's a boxing "match"/hard-spar (I'm wearing a hoodie, not a great idea)… I mean I didn't want to go that hard, but he and I might have been a tad under certain influences IIRC. I just recently turned 19 here. Those punches in the clinch really flipped a switch. This was the heaviest I had been in my life about 176 at 5 ft 11. Not horrible, but still. In these two years since that last spar, I definitely did not even double my hours of Muay Thai training. Was it Dana that said "injuries are a fucking sport killer"?
Anyways, send me your constructive and destructive criticisms as you see fit. And I'm off to Guangzhou to meet some more 2nd cousins, Uncles thrice removed, married couple that took care of my brother in laws two cats, that were passed down by my great grandfathers little brother, you know the deal. etc etc. I'll be back with a May preview and April recap in the coming weeks.