Showing posts tagged 115lbs
1. Jessica Aguilar 
2. Claudia Gadelha
3. Carla Esparza
4. Ayaka Hamasaki
5. Joanne Calderwood 
6. Tecia Torres 
7. Katja Kankaanpaa 
8. Felice Herrig
9. Mizuki Inoue
10. Rose Namajunas - up 4
11. Mei Yamaguchi - 
12. Emi Fujino - up 1
13. Aisling Daly - debut
14. Alida Gray - down 4
15. Bec Hyatt  (Rawlings, her legal last name, that she is going by now)
16. Stephanie Eggink 
17. Heather Clark
18. Julianna Lima - up 2
19. Kailin Curran
20. Brianna van Buren - debut
21. Patricia Vidonic - down 8
22. Herica Tiburcio - down 2
23. Kinberly Novaes - down 2 
24. Justine Kish - debut
25. Lynn Alvarez - debut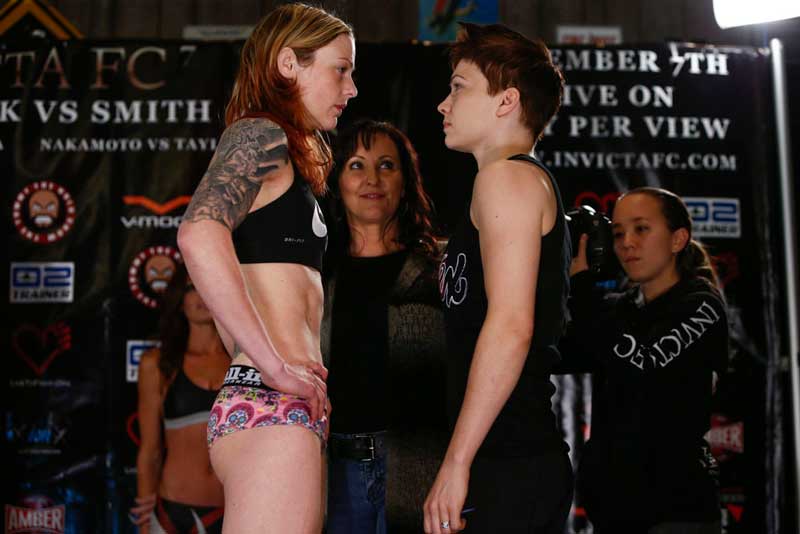 Calderwood stares down with Kankaanpaa
1. Jessica Aguilar 
2. Claudia Gadelha
3. Carla Esparza
4. Ayaka Hamasaki
5. Joanne Calderwood 
6. Tecia Torres 
7. Katja Kankaanpaa 
8. Felice Herrig
9. Mizuki Inoue
10. Alida Gray - So, this 36 year old chick  made her MMA debut against Vidonic beating her by armbar. I can't not rank her now, since the victory was so recent. This is like when Rashad Evans. did nothing agaisnt Lil Nog, losing. 
11. Mei Yamaguchi - She definitely won rounds 1 and 3 against Vidonic, so I'm still ranking her ahead of Vidonic
12. Patricia Vidonic - Considering Vidonic's losses are 2x Aguilar, 2x Herrig and once from the unknown Gray, she just needed to face non top 5 opposition
13. Emi Fujino
14. Rose Namajunas
15. Bec Hyatt
16. Stephanie Eggink 
17. Heather Clark 
18. Kailin Curran 
19. Herica Tiburcio 
Kay. This clusterfuck of Brazillians is all because Camila Lima had to go and get KTFO in 30 seconds by Mylla Torres, who isn't that good, so she has lost to fighters, and based on my "quality of opposition" I have to rank all these Brazillians because Camila Lima beat Herica Tiburcio, then Tiburcio beat Novaes. Hopefully these Brazillians can fight each other or move to Invicta or PXC. 
20. Juliana Lima
21. Kinberly Tanaka Novaes
22. Livia Souza  
23. Aline Sattelmayer  
24. Mylla Torres 
25. Camila Lima
*Mika Nagano and Emi Tomimatsu drops out